Meet our Gastronomically Amazing Neighbors
Hotel VIA's South Beach neighborhood can be described as sophisticated, approachable, unique, innovative and exciting. Like every neighborhood in San Francisco, South Beach has an amazing food and beverage scene. Our Top 5 list for this month is South Beach restaurants which have these exact same descriptors as the neighborhood. Even better, our list is the Top 5 dining experiences matching these descriptors and within a 5 minute walk from Hotel VIA. Yes…you read that correctly. Within a 5 minute walk we will guide you to some very fine dining experiences. Before we get to the list, any fine dining experience begins with fine drinks and each one of these restaurants also has an exciting bar menu. Creative cocktails, an array of beers and some super discerning wine lists. So, let us guide you to our nearby gastronomically delightful neighbors. It's a good thing they're close by because you'll want to visit each of these over and over.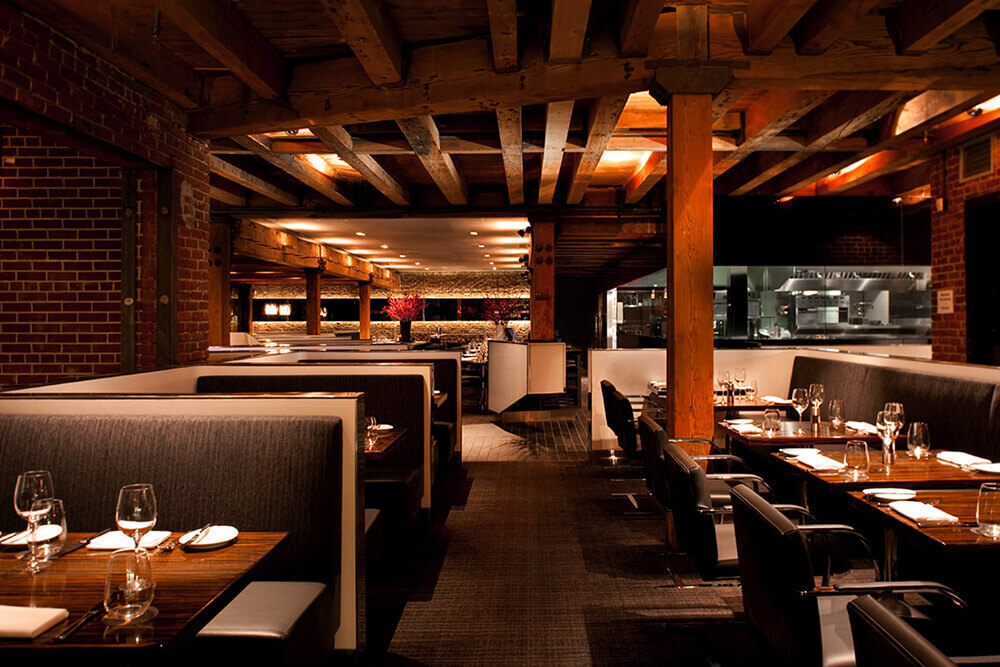 25 Lusk
Named for its address: 25 Lusk. Tucked into an alley just a few minutes from Hotel VIA, Michelin Star Chef Matthew Dolan creates a fine dining experience that is simultaneously elegant and approachable. Housed in one of South Beach's historic buildings, the restaurant incorporates the brick and steel elements of the past combined with contemporary interior design creating an environment of instant comfort. Similarly, Chef Dolan's dishes incorporate seasonality, sustainability and local producers to create creative dishes that make the diner as comfortable with the food as they are with the environment. Three uniquely different levels of space, from a casual rooftop to an intimate dining room, offer diners a variety of experiences, each equally as wonderful.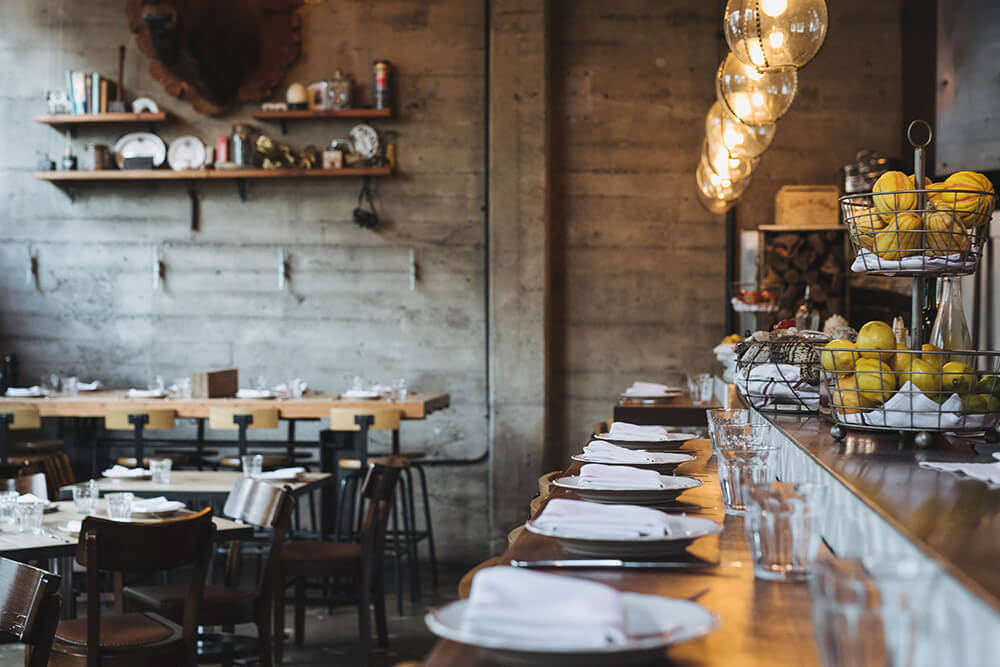 Cockscomb
564 Fourth Street. Celebrity Chef Chris Cosentino presents a mecca for meat lovers. The pleasure begins with the amazing smells that greet you when you enter the restaurant. The aroma alone lets you know you're about to have a fine eating experience. The two-level space with its open kitchen also gives you a comfortable welcome and the anticipation of a great meal. If you have ever been intimidated by offal, Chef Cosentino, with his mastery of offal cuisine, makes this delicacy worth a try. Don't be fooled, this is not just a dining delight for carnivores. The salads and vegetables are amazing and you can eat yourself silly on the oysters, shellfish platters and seafood cocktails. Whatever you decide on, the one thing to be sure of is that it will be delightful.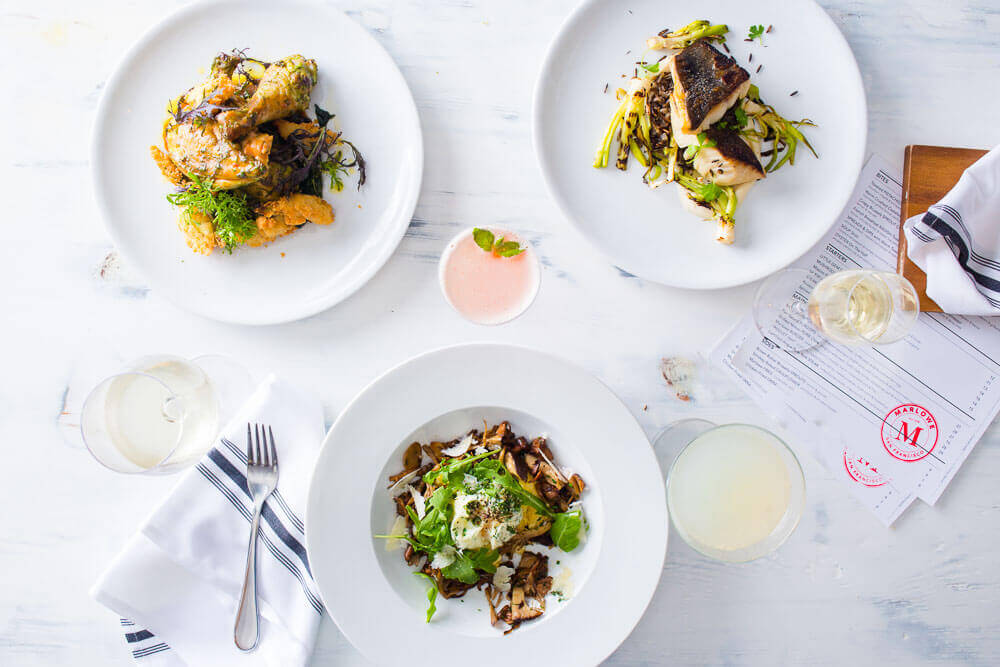 Marlowe
500 Brannon @ 4th Street. Your biggest problem at Marlowe is going to be what to order. This restaurant's unexceptional exterior belies the exceptional food that's served inside. The menu is innovative but approachable. We go for the unparalleled hamburger, but always end up pouring over the menu unable to make a final decision. No matter what you eventually decide to order, starting with one of the "bites" is a must. All are fabulous.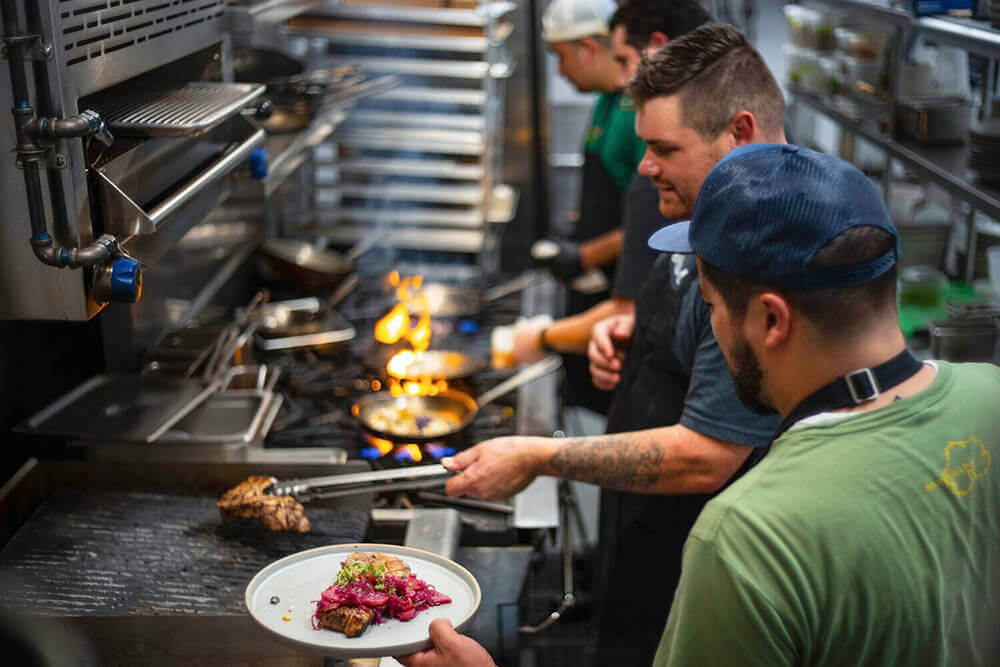 South Park Café
108 South Park. For starters, this little neighborhood bistro sits in the middle of South Park which is a one-block street that includes a very interesting unstructured playground. The street is populated with tech and VC companies and is the perfect setting for the re-invented South Park Café. The restaurant replaced the old South Park Café which was shuttered a couple of years ago. The founders of BREX, the new corporate card for tech companies, created the new Café, brought in a new chef, and the outcome is amazing. Its sweet but unpretentious interior puts you instantly at ease. The menu includes dishes that can only be described as inspired and delicious. And we can say without hesitation that the French fries are the best in the Bay Area. And don't worry, they take all credit cards…you don't need to have a BREX card to eat here.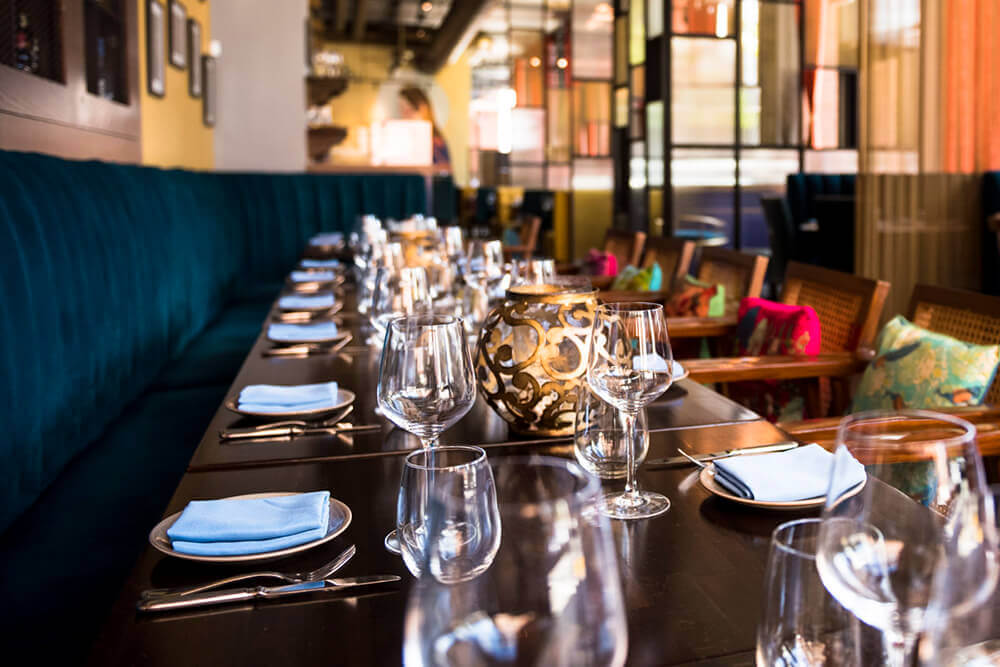 Rooh
333 Brannan. ROOH is a stylish Indian restaurant as innovative as the neighborhood in which it resides. Chef Sujan calls ROOH a "labor of love" as he artfully creates Indian fare with California accents. ROOH's menu fuses India's myriad flavors with fresh local ingredients using modern cooking techniques. The result: dishes that you've most likely never experienced before but will be remembered for sure. With vibrant interior design as creative as the food, ROOH is the epitome of approachable sophistication.
To be sure, there are many other excellent dining choices in our dynamic South Beach neighborhood. Some are as near as these and others might take a 10 to 20 minute walk. But if you try this list, you don't have to walk too far for some really comfortable and fine dining.
Posted February 27th, 2020
Back To Main